In spite of the fact that yoga can be traced to India millenniums ago, the vast majority of Indians do not practice yoga, according to a survey by the Pew Research Center.
Among those who practice yoga in India, however, they are more college-educated and of younger age.
The Pew survey occurred among nearly 30,000 Indian adult participants, conducted between late-2019 through early-2020.
"Just about a third of Indian adults (35%) say they ever practice yoga, including 22% who say they do so monthly or less, and even fewer who do so daily (7%) or weekly (6%)," the Pew data shows. "Roughly six-in-ten Indians (62%), including an identical share of Hindus, say they never practice yoga."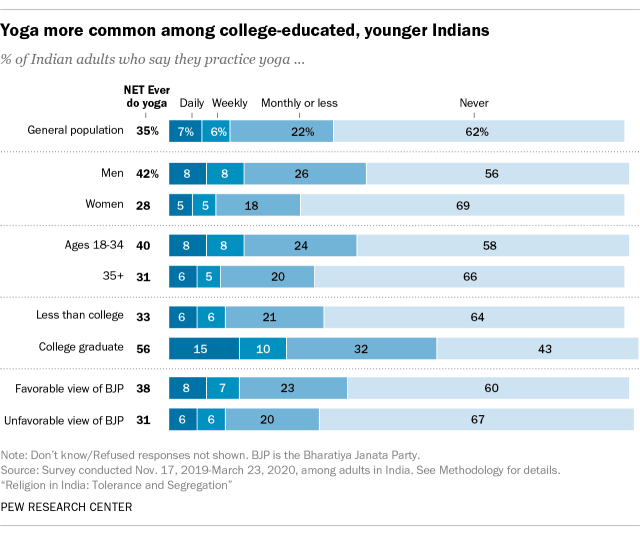 In the survey, it was found that college graduates were more likely than those less educated, 56 percent vs 33 percent, to practice yoga. Additionally, those who favor Modi's Bharatiya Janata Party (BJP) had a considerably higher chance of practicing yoga.
"Yoga's religious roots notwithstanding, Indians who say religion is very important in their lives are no more likely than other Indians to say they ever do yoga (35% vs. 36%). Indians who pray daily, however, are slightly more inclined than other Indians to say they do yoga (38% vs. 30%)," the Pew survey also found.
Photo: dreamstime