A new report released by the American think tank the Pew Research Center shows that almost all of the members of the 118th Congress obtained a bachelor's degree before their tenure while most hold a graduate degree as well.
Over nine out of 10 Congress members working in the lower and upper chamber, hold a bachelor's degree or higher, according to the Pew report. In the 118th Congress, 94% of congressmen and every senator but one hold a bachelor's degree or higher.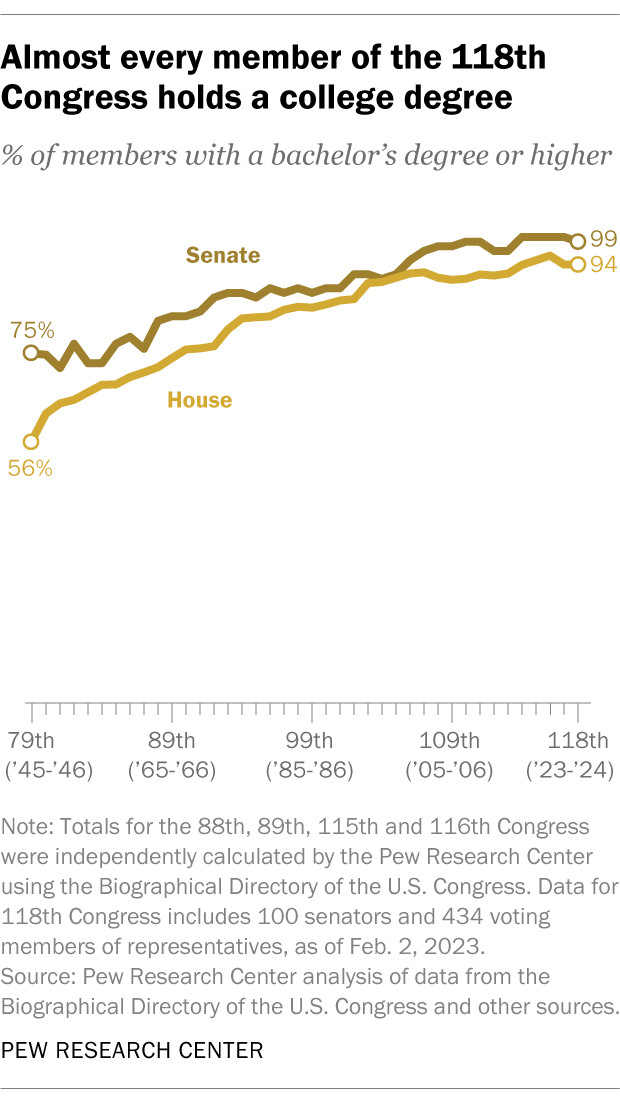 The percent of members with a bachelor's degree or higher in Congressional roles saw substantial gains since the 79th Congress.
"In the House, nearly two-thirds of representatives (64%) have a graduate degree," the report states. "Five representatives (1%) have an associate degree but no bachelor's. Another 22 members (5%) do not have a degree. This group includes one member who has a professional certification: Democrat Cori Bush of Missouri has a registered nursing diploma."
"Among the 100 current senators, 78 have at least one graduate degree. Republican Markwayne Mullin of Oklahoma is the lone senator without at least a bachelor's degree. He holds an associate degree from Oklahoma State University of Technology. Sen. Rand Paul, a Kentucky Republican, earned a doctorate in medicine from Duke University Medical School but does not hold a bachelor's," the report further adds.
You can read the full Pew report by clicking here.