A recent survey by the Pew Research Center explored public opinion surrounding the Afghanistan troop pullout by the 46th President of the United States that caused the deaths of 13 American soldiers and many civilian casualties in the region.
According to the survey, at the time of the military evacuation, nearly half of Americans agreed that the decision to remove U.S. boots on the ground in Afghanistan was a right choice.
The majority of respondents, or 69 percent, reported stating that the administration of the 46th POTUS failed to handle the situation upon exiting Afghanistan.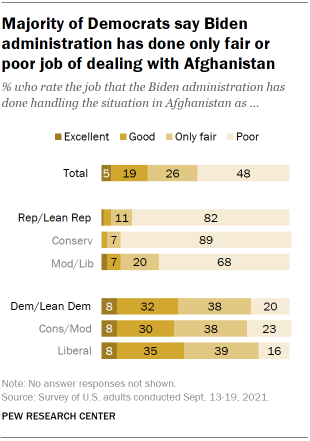 The survey also found that most Democrats and Republicans were not satisfied with the president's actions in Afghanistan.
Moreover, respondents were also asked about the admission and releasing of Afghanistan refugees due to the destabilization caused by the 46th POTUS, some of whom may pose a terror threat. Only about half of respondents agreed with the administration's decision to allow such refugees to enter the U.S.
The findings can be read by clicking here.