Across the globe, many publics view the United Nations favorably, including its handling of climate change and the COVID-19 pandemic, according to a Pew Research Center report.
In their new survey, conducted in the Spring of 2021, the UN was perceived favorably by most in the 17 publics, with Swedish expressing the most positive opinion of the UN and Taiwan the least.
The survey found a median of 67 percent of respondents expressed a favorable opinion of the UN, in comparison with a median of 29 percent with contrasting views.
"Majorities in Canada and the United States have a positive opinion of the UN (71% and 59%, respectively)," the Pew report reads. "Across the nine European countries polled, half or more are favorable toward the organization, ranging from 50% in Greece to 84% in Sweden. Greece has the largest share of adults (44%) who hold unfavorable views of the UN in Europe."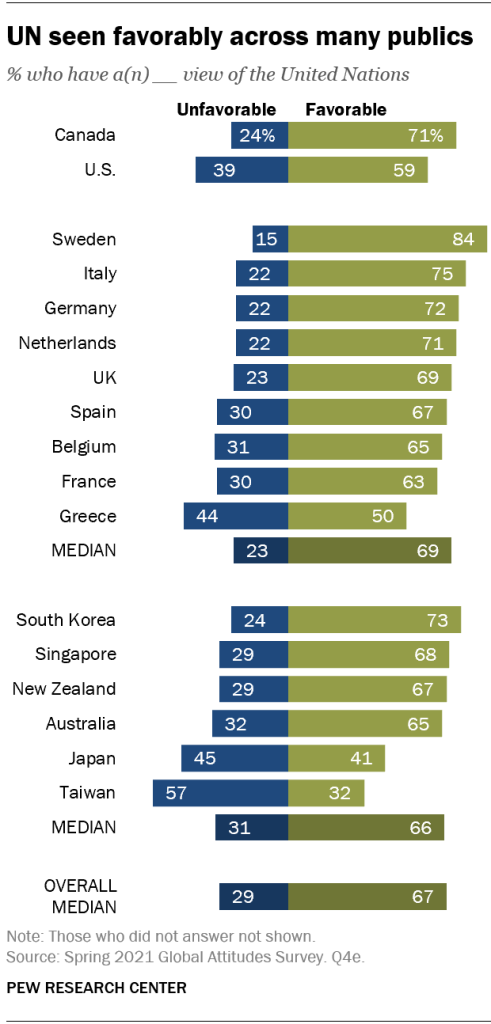 Since 2020, the extent of favorable views of the UN has increased dramatically in several countries. "The largest increases come from Italy and Japan. Among Italians and Japanese, positive opinions of the UN increased 12 percentage points in the past year. Favorable opinion toward the UN in Germany, Sweden, the Netherlands, Spain, Belgium and Australia also increased significantly since 2020," according to the Pew authors.
Moreover, the favorable views toward the UN occurred primarily by people with left-leaning ideologies. Many also expressed positive opinion about the UN's response to climate change.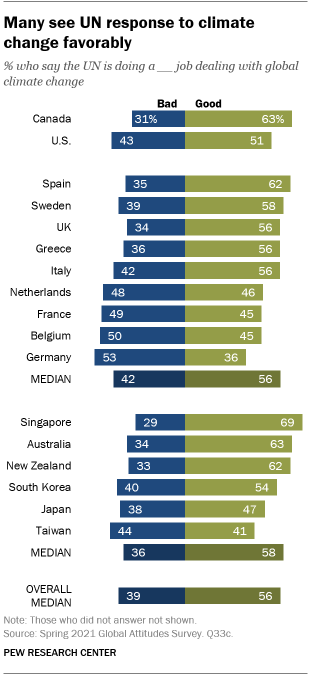 Photo: Steven Bornholtz