Last year, the flow of apprehensions at the US-Mexico border was the highest its ever been since the 43rd sitting U.S. president occupied the oval office in 2007. The sudden surge in apprehensions of illegal trespassers was the result of stricter reinforcements made by the Trump administration to uphold the rule of law.
In a new study, released by Pew Research Center, migrant apprehensions tanked substantially in April, showcasing the effects purportedly caused by the SARS-CoV-2 pandemic. In that month, the U.S. government enforced lockdown restrictions limiting to only essential travel at the border, to inhibit any spikes in cases of infectious transmission.
In the southwest border, an estimated 15,000 migrants were apprehended by U.S. Border Patrol personnel in April. The number of apprehensions was 47 percent lower than in the previous month, according to the Pew Research team.
"In addition, apprehensions in April were down 84% compared with the same month in 2019, when the total was 99,273," the Pew Research report reads. "The last time border enforcement actions in a single month had fallen below the 20,000 mark was in 2017."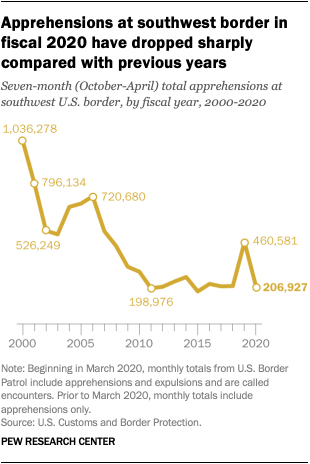 The dramatic decline in apprehensions was evident among all sectors of the US-Mexico border, with the Rio Grande considered to have the largest drop of all the sectors.
In the Rio Grande sector, located in southern Texas, apprehensions decreased from 7,027 to 3,264.
Moreover, the data also showed that adults made up the majority of migrants. 92 percent of those apprehended in the southwest border were adults, while only five percent were unaccompanied minors.
Photo: Herika Martinez