In 2019, Border Patrol agents experienced the largest apprehension of migrants at the U.S.-Mexico border since 2007, a recent study indicates.
The drastic surge in apprehensions from 2018 to 2019 is directly attributed to a change in policy focus induced by the Trump administration. According to the new federal data, 851,508 apprehensions were measured at the U.S.-Mexico border in 2019, a 115% increase from the previous year.
Among those being apprehended at the border, non-Mexicans have outnumbered Mexicans, with 80% of apprehensions involving other Latin American countries like Guatemala, Honduras, and El Salvador. All three of those nations accounted for 71% of apprehensions in 2019.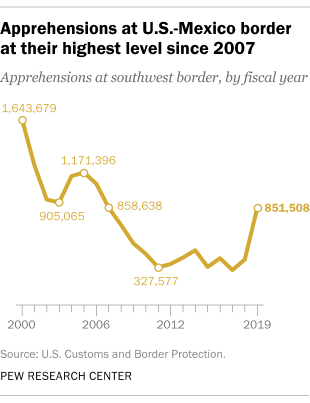 "For the first time on record, Mexicans did not account for the largest single country of origin in fiscal 2019," the study reads. "There were more apprehensions of Guatemalans (264,168) and Hondurans (253,795) than Mexicans (166,458), while El Salvador was fourth on the list with 89,811 apprehensions."
"People traveling in families accounted for the majority of apprehensions in fiscal 2019, a big shift from the recent past," the study adds. "There were 473,682 apprehensions of "family units" (defined as the number of individuals traveling in a family), representing 56% of apprehensions overall and more than four times the next-highest annual total of family member apprehensions on record (107,212 in fiscal 2018)."
"Apprehensions of unaccompanied children ages 17 and younger also reached their highest level on record (76,020 in fiscal 2019, compared with a previous high of 68,541 in fiscal 2014). In all other recent years, apprehensions of individual adults far outnumbered those of family members or unaccompanied children."
Moreover, migrant apprehensios have increase in all nine sectors of the U.S.-Mexico border, including a 477% surge in El Paso and 160% in Yuma.
"The El Paso region saw a 477% surge in migrant apprehensions in fiscal 2019 compared with fiscal 2018 (from 31,561 to 182,143). That was by far the largest percentage increase of any of the nine southwest Border Patrol sectors. In fiscal 2019, El Paso ranked second in apprehensions only to the Rio Grande sector, which saw an increase of 109% between fiscal 2018 and fiscal 2019 (from 162,262 apprehensions to 339,135)."
Pew Research Center is a nonpartisan think tank devoted to public opinion polling, demographic analysis, and social science research.