Since the SARS-CoV-2 pandemic gripped the world in 2020, Americans have been paying more attention to science news in recent years compared to 2017.
According to the Pew Research Center, a survey conducted between November and December 2021 revealed that more than half of US adults, or 56% of the sample, reported discussing science news with others at least a few times per month.
Almost a quarter of those polled said they discussed science news at least a few times per week.
"Americans' engagement with science news in everyday discussion is higher than in a 2017 Center survey, when 44% said they talked about science news with others at least a few times a month," the Pew report states.
"Overall, three-quarters of Americans express some level of interest in following news about science, according to the 2021 survey. About a quarter (27%) say they are very interested in science news, while another 48% say they are somewhat interested," the report also reads.
"Public interest in science news outpaces interest in topics such as business and finance, as well as sports and entertainment, though it is below public interest in news about one's local community."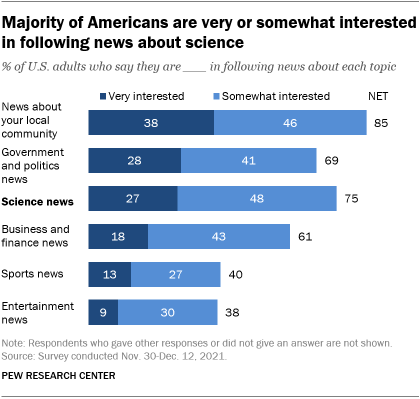 The Pew report was published online on November 10, 2022.