According to a new survey by the Pew Research Center, many Americans are neutral about the decrease in populants who identify their race as White, neither portraying its decline as good nor bad for society.
In the survey, conducted throughout July of 2021, 61 percent of US adult respondents saw the decline in White people in the U.S. as neither good nor bad. Only 9 percent of all respondents attributed the decline in White populants as negative.
"About six-in-ten adults (61%) say the declining proportion of Americans who identify as White – a trend documented this month in new data from the Census Bureau about Americans who identify as solely White and not Hispanic – is neither good nor bad for society," the Pew survey found.
"About two-in-ten (22%) say it is bad, including 9% who say it is very bad. Slightly fewer (15%) say it is good for society, including 7% who say it is very good, according to the survey."
Moreover, the Pew survey also found that the majority of White adult respondents shared nearly similar views about the decline of White people in the U.S.
"About six-in-ten White adults of all ages say the declining share of White people in the population is neither good nor bad for society," the Pew survey also showed. "But about a third of White adults 65 and older (35%) say it is bad for society, while just 13% of those under 30 say the same."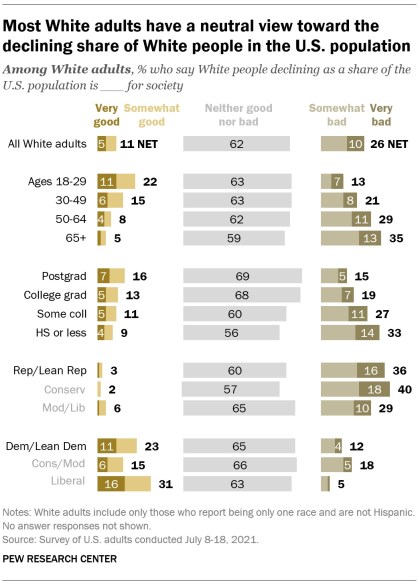 Photo: Getty Images