A new report out by the Pew Research Center shows that many members of Congress are ramping up their discussion of China on social networking sites.
The study was conducted between January 2016 and April 2021.
In the Pew study, Democratic lawmakers were involved in the majority of the posts on social networking sites by congressional accounts that mention Asian Americans, particularly over the last few years.
Among Republic lawmakers, however, their social media posts mostly involved places and people residing in Asia, as opposed to Asian Americans. This makes China a very frequently discussed topic on social media in Congress.
"From 2016 through 2019, Republican members of Congress produced a modestly larger number of Facebook and Twitter posts mentioning places and people in Asia than their Democratic counterparts. But in 2020, Republican lawmakers produced more than 21,000 such posts – three times as many as congressional Democrats. And in the first four months of 2021, GOP lawmakers produced more than twice as many such posts as Democrats," the Pew findings state.
"The specific Asian places and people that are mentioned in lawmakers' social media posts have also evolved in recent years."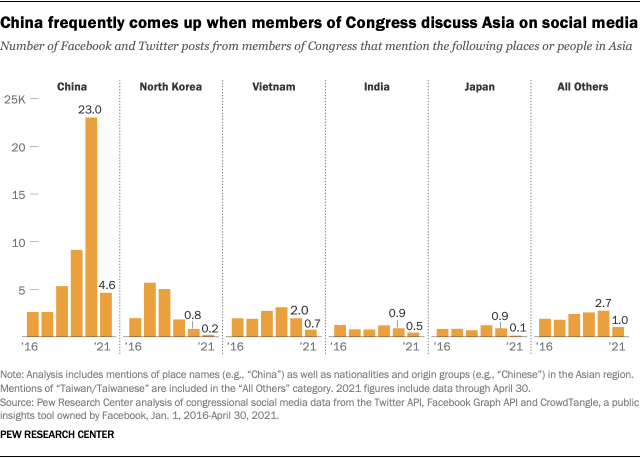 The survey was conducted by the Pew Research Center, a US-based nonpartisan think tank devoted to public opinion polling, demographic analysis, and social science research.