Staff layoffs within a third of the largest American newspapers occurred in 2020, more so than in 2019, according to the Pew Research Center.
A Pew report examined layoffs within large newspapers, starting from 2017 through 2020. While the percentage of layoffs was at 24 in 2019, it rose to 33 percent in 2020, as a result of complications surrounding the COVID-19 pandemic.
"These 2020 layoffs exceed the roughly one-quarter of papers in the same circulation range that experienced layoffs in 2019 (many were the same papers) as employment within the newspaper industry continued to fall precipitously in recent years," the Pew report states.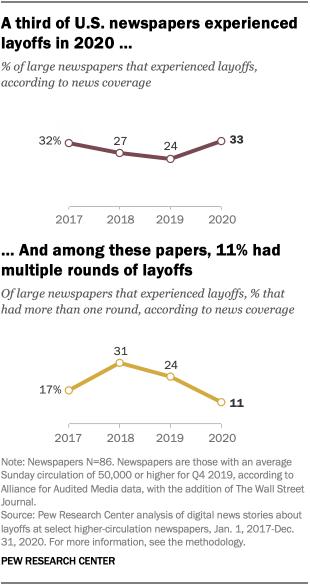 "Large-market newspapers – those with a Sunday circulation of 250,000 or more – were the most likely to suffer layoffs in 2020, with more than half of them experiencing staff cuts. That is unlike 2019, when cuts were roughly similar across the different tiers of circulation groups studied."
Based on the data, a considerable number of small newspapers closed their doors due to the pandemic. Large newspapers, on the other end, saw the largest spike of layoffs in 2020.
"Roughly three-in-ten medium-market newspapers (27%) had publicly announced layoffs in 2020, compared with 18% in 2019. Among larger-market newspapers (those with a circulation of at least 250,000), more than half of those studied (55%) experienced layoffs in 2020. In 2019, about a quarter (27%) of larger-circulation newspapers experienced layoffs," the Pew data determined.
Photo: Getty Images