As vaccines became rampant in early-2021, the number of confirmed cases of COVID-19 began to decline, prompting societies to return to pre-COVID-19 levels.
In a new survey released by the Pew Research Center, a US-based think tank, their data shows that most Americans believe a return to pre-COVID-19 levels will occur within six months to one year.
Conducted in the first week of March 2021, the survey found that this belief in a return to normality is evident among all demographics.
When it comes to the job situation in the U.S., most Americans believe it may take one to two years, if not longer, for most people to bounce back from the COVID-19 pandemic.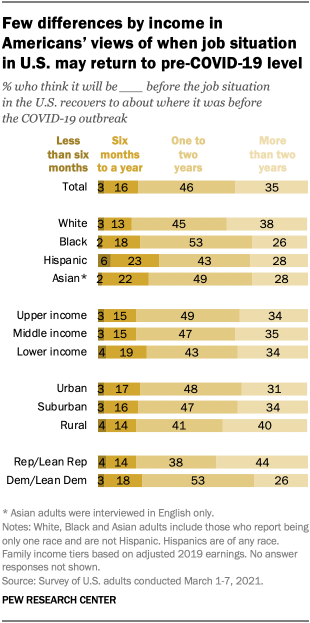 "When it comes to the nation's job situation, Americans are even more pessimistic. About eight-in-ten Americans say they expect it will take one to two years (46%) or more than two years (35%) for the job situation to recover to where it was before the outbreak. Just 19% believe it will recover in less than a year," the Pew data showed.
"There are modest demographic differences in these predictions. For example, those who live in rural areas (40%) are slightly more likely than those who live in suburban (34%) or urban areas (31%) to say the job recovery will take more than two years."
"While partisans are largely in agreement that it will take more than a year for employment to reach the level it was at before the pandemic, Republicans are more pessimistic: 44% expect jobs to return in more than two years, compared with about a quarter of Democrats (26%)," the Pew data also found.