People residing in France, Germany, and the United Kingdom are optimistic of improved trans-Atlantic relations amid Joe Biden's entry into the oval office as the 46th President of the United States, a new survey suggests.
The findings from the survey surfaced after Biden's predecessor, Donald Trump, received negative remarks over his actions on U.S. policies and improving trans-Atlantic relations.
According to the data, released by the Pew Research Center, as Biden entered the world stage as a candidate for the American presidency, his ratings surged astronomically, becoming a promising leader when it comes to world affairs.
The survey was conducted in the Fall of 2020.
From the Pew results: "Throughout his presidency, Donald Trump was broadly unpopular internationally, and his poor ratings have had a negative impact on America's overall image, especially among key allies and partners of the United States."
"By contrast, early reviews for his successor, President-elect Joe Biden, are much more positive… People in all three countries express confidence in Biden and optimism that relations with the U.S. will improve now that he is moving into the White House," the data also indicated.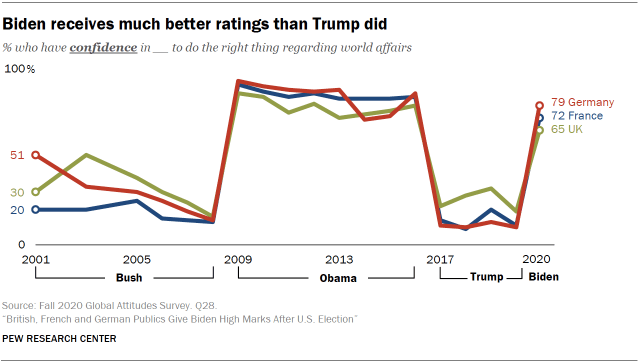 Among the high praise highlighted in the Pew data, German (79%) and French (72%) respondents expressed the most confidence in Biden to improve world affairs.
Moreover, the European nations involved in the survey concluded that Biden's first term as America's leader will pave the way for the improvement of climate change, foreign policy, and the controlling of the COVID-19 pandemic.
Photo: Getty Images