As the fate of the entire European continent remains unknown, with an awaiting departure of the most successful female leader in global political history and the removal of Britain from the EU, eyes have turned to the spectacles occurring in America, with a new presidential administration set to transpire.
In a survey conducted by the Pew Research Center, a US-based nonpartisan think tank, online posts gathered from the social networking site Twitter were analyzed to assess the mindset of lawmakers in several nations.
According to the Pew data, upon the announcement of the victory for the 46th President of the United States, lawmakers in Canada, the UK, and Australia expressed excitement and positivity toward the upcoming transition.
"In the week following his victory, more than half of lawmakers who posted at least one tweet mentioned Biden or his running mate Vice President-elect Kamala Harris – and most who did expressed positive sentiment toward the new administration," the Pew research team stated in their report.
"Many of these legislators sent their congratulations, and several also expressed positive feelings about their nation's future relations with the U.S. legislators who tweeted about Trump after the election used a more negative tone, similar to before the election."
In the pre-election data, the majority of respondents, or 73 percent, posted negative remarks regarding the 45th President of the United States' re-election campaign. Most of the respondents, or 80 percent, had neutral views of the Democratic opposition for president.
By post-election, most respondents remained abhorred by the idea of a Trump presidency, while 86 percent, or the majority, shared positive views of the opposition.
Post-election discussion by foreign nations regarding former Vice President and Senator Joe Biden involved the development of bilateral relations and the congratulatory conveyance for an upcoming transition to occupy the oval office, according to the data.
Canadian lawmakers were most fond at sharing positive views of Biden's post-election turnout, while British lawmakers were second in such prevalence, followed by Australian lawmakers in third, the findings showed.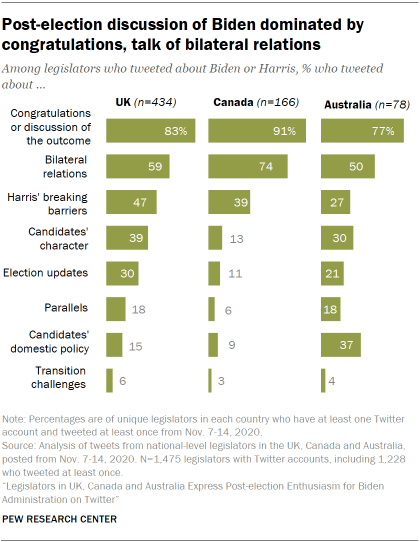 Photo: AFP via Getty Images