During the holiday season of 2020, the COVID-19 pandemic disrupted travel plans for many nations across the world, including the United States. The surge of confirmed cases of coronavirus resulted in precautions and travel restrictions recommended by the Centers for Disease Control and Prevention.
In a new study by the Pew Research Center, it was found that the majority of Americans adhered to the precautions put forth by public health officials, having refrained from traveling during the Thanksgiving holiday. The survey took place in mid-November 2020.
Interestingly, the survey showed that left-leaning voters, or Democrats, were more likely to have respected the recommendations of health officials, compared to Republicans.
Respondents in late-adulthood and those with a higher socioeconomic status were more prone to take additional precautions when deciding whether to travel for the holidays during the pandemic, the survey shows.
"The share of Americans who say they changed their Thanksgiving plans due to COVID-19 varies by education level as well as partisanship," the Pew data uncovered.
"Seven-in-ten adults with a postgraduate education and 66% of those with a bachelor's degree say they changed their Thanksgiving plans a great deal or some due to the outbreak. That compares with 53% of adults with some college education and 51% of adults with a high school diploma or less education," the authors explained in their report.
When it came down to gender or age range, no major differences were established, as women and those of older age, were considered to be more likely to heed travel guidelines laid out by the CDC.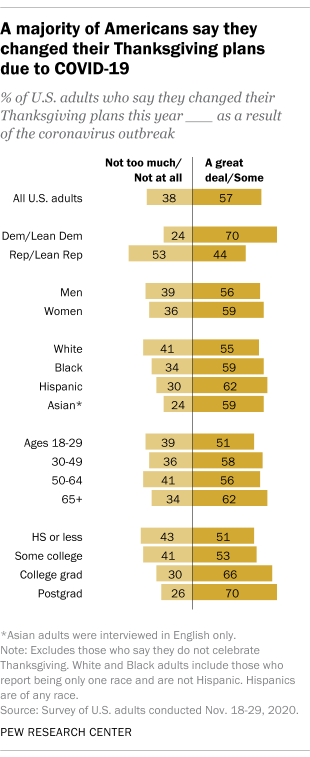 Photo: Kiattisak Lamchan