Younger Americans tend to have more favorable views of other countries compared to their elders, remaining fixated on such beliefs even as they grow older, a new survey finds.
The survey, conducted by Pew Research Center throughout March of 2020, found that Millennials in particular are less likely to dislike China and its leader Xi Jinping, compared to Gen Xers and Baby Boomers. Favorability toward China is on a steady decrease among all age groups in recent years, however, according to the findings.
The US-based respondents were also asked if they held favorable views of the Russian Federation — again, Millennials were more inclined to say they view the Eastern European nation with positive beliefs.
"The decline in support for Russia is sharpest among Boomers: While 45% initially saw Russia favorably more than 10 years ago, only 14% say the same today," the findings stated.
"Millennial attitudes, too, have turned more negative – falling from 52% favorable in 2007 to 25% in 2020 – but they remain relatively more favorable toward Russia than most older cohorts."
Moreover, when respondents were administered a part of the survey pertaining to favorability of the United Nations, the intergovernmental organization was viewed with high favorability among all age groups, but Millennials again topped the scale as expressing the most positive views.
"Millennials are at least 10 percentage points more favorable toward the United Nations than are Gen Xers or Boomers. Opinions of the multilateral organization have largely fluctuated in tandem since the question was first asked in 2004," the Pew Research co-authors explained in their report.
"The same patterns are largely true for views of the European Union. Views of NATO are similar."
Among the older generations, the survey determined that perceiving the U.S. as the world's leading economy, synchronized more with their age group, compared to Millennials.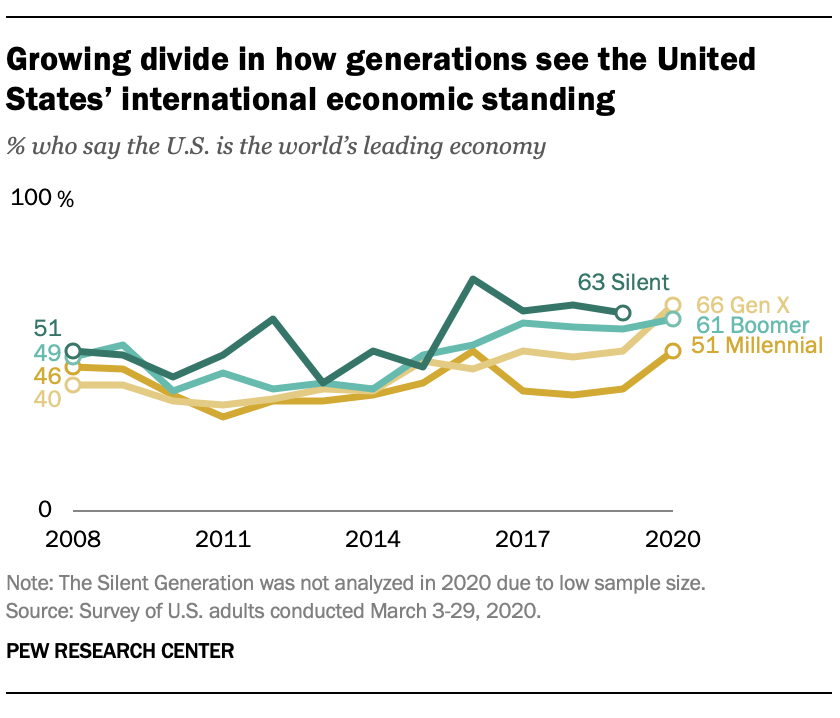 Pew Research Center is a US-based nonpartisan think tank devoted to public opinion polling, demographic analysis, and social science research.
Photo: Flickr