As the COVID-19 pandemic ravages on in the United States, Americans are divided on their views as to whether the coronavirus outbreak poses a serious threat to public health.
According to Pew Research Center, a vast majority of Democrats, about 85 percent, perceive the coronavirus outbreak as a serious threat to the general public's health in the U.S. Republican-leaning supporters, however, close to 50 percent, are less likely to perceive the disease in a similar manner.
"The gap between Republicans and Democrats in perceptions of the public health threat posed by COVID-19 is about the same as it was in early May, before cases surged in a number of states, including Alabama, Arizona, Florida, South Carolina and Texas," the Pew Research findings state. "The partisan gap was somewhat smaller during the early stages of the outbreak in the U.S. in mid-March."
The survey, initiated between July 13-19, 2020, found that the economic repercussions caused by COVID-19 remain steadily similar among both Republican-leaning and Democrat-leaning supporters.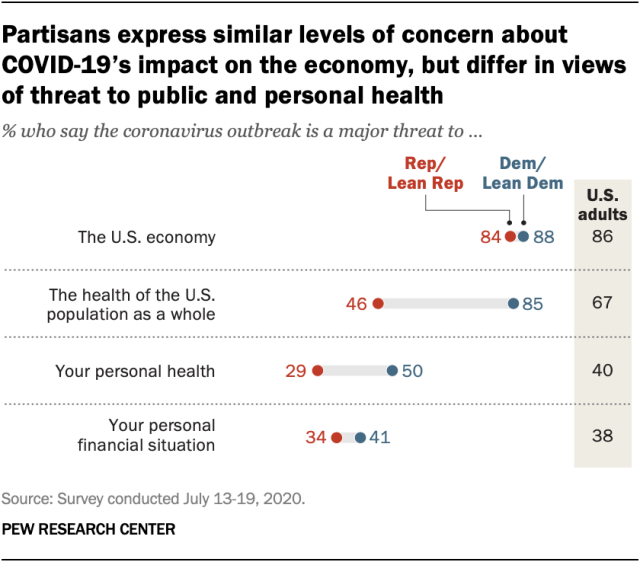 "Overall, 86% of Americans – including 88% of Democrats and 84% of Republicans – now view the coronavirus outbreak as a major threat to the U.S. economy," the findings declared. "Concern over the outbreak's economic impact has remained very high since the spring, when unemployment claims surged and the country's 11-year economic expansion came to an end."
Moreover, the survey also unveiled that Black and Hispanic adult respondents were more likely than white adults to perceive the pandemic as a serious threat to personal health and finances.
"While the coronavirus has affected Americans from all walks of life, public health data shows it has hit certain groups particularly hard, including Black and Hispanic Americans, older adults, those with preexisting conditions and those with work or living arrangements that put them in close proximity to people who frequently contact others," the survey also concluded.
Photo: Shutterstock