Only a small percentage of Americans have confidence in their ability to fact-check news about a pandemic, a new survey shows.
As part of a US-based study by Pew Research Center, involving more than 10,000 adult participants, the research team uncovered that three-in-ten participants, or 28 percent, were highly confident in their ability to validate the accuracy of news consumption surrounding the SARS-CoV-2 outbreak.
The study also found that 49 percent of the respondents exhibited some confidence in verifying information from news sources, while 22 percent were not at all confident.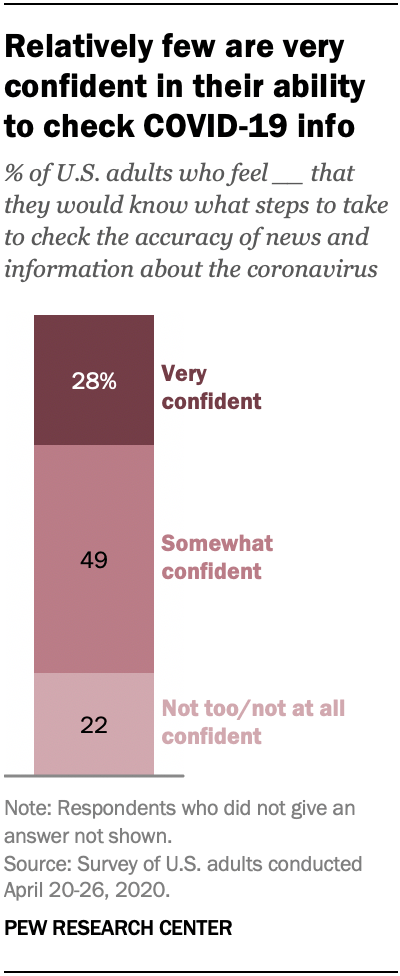 The US-based respondents who were more trustful of the mass media's coverage regarding the pandemic, had increased confidence in verifying the accuracy of their news consumption.
"Americans who think highly of the news media's coverage of the coronavirus outbreak are much more confident in their own ability to check the facts," the Pew Research findings state.
"Around four-in-ten (43%) of those Americans who think the news media are covering the outbreak very well say they are very confident in their own ability to check the accuracy of COVID-19 information. That compares with around a quarter of those who think the media are doing somewhat well (23%) or not too or not at all well (24%) at covering the outbreak," according to the survey's co-authors.
"Views of the news media's coverage of the outbreak align closely with people's confidence in their own fact-checking abilities even after accounting for how closely Americans are paying attention to COVID-19 news."
Pew Research Center is a nonpartisan think tank devoted to public opinion polling, demographic analysis, and social science research.
Photo: Tom Stathis/AP/Shutterstock