In America, the absorption of political news and scandals in the mainstream media varies widely by political affiliation and age group, a new survey finds.
The survey, published by Pew Research Center, found Fox News and CNN to be the primary political news sources cited by most U.S. adult respondents. The other news outlets, cited by fewer respondents, included NPR, NBC News, ABC News, MSNBC, CBS News, and the New York Times.
More than 12,000 respondents were part of the survey initiated between October to November of 2019. Respondents were asked if they consumed political news in recent days and which one source was considered to be the most reliable for political news.
"In all, about half (49%) of U.S. adults named one of these eight outlets as their main source for political and election news," according to the study.
"The long list of all other individual outlets, named by fewer than 2% of respondents, included larger sources like The Washington Post, the BBC and Rush Limbaugh, as well as more niche sources such as One America News, The Young Turks and individual local newspapers."
Among the respondents, the choice of Fox News or MSNBC as a main political news source made them seem equally partisan to researchers. "Partisan alignment emerges in several of the most commonly named main sources for political and election news."
"Four of the eight sources named by at least 2% of U.S. adults are much more likely to be named by Democrats and independents who lean Democratic than by Republicans and GOP leaners: MSNBC, The New York Times, NPR and CNN. Fox News is the one outlet among these eight that is far more likely to be named by Republicans than by Democrats," the survey determined.
For respondents who listed Fox News as their primary source for political news, nearly nine-in-ten, or 93%, identified as an advocate of the Republican party. An estimated 95% who cited MSNBC as their main source for news identified their beliefs as correlated with the Democratic party.
The less-popularized sources for political news leaned more to the left side of the spectrum, based on the respondents' viewpoints. 91% of respondents who cited the New York Times, and 87% citing NPR were advocates of the Democratic party. CNN-based respondents who identified as Democrats were reported to be as much as 79%.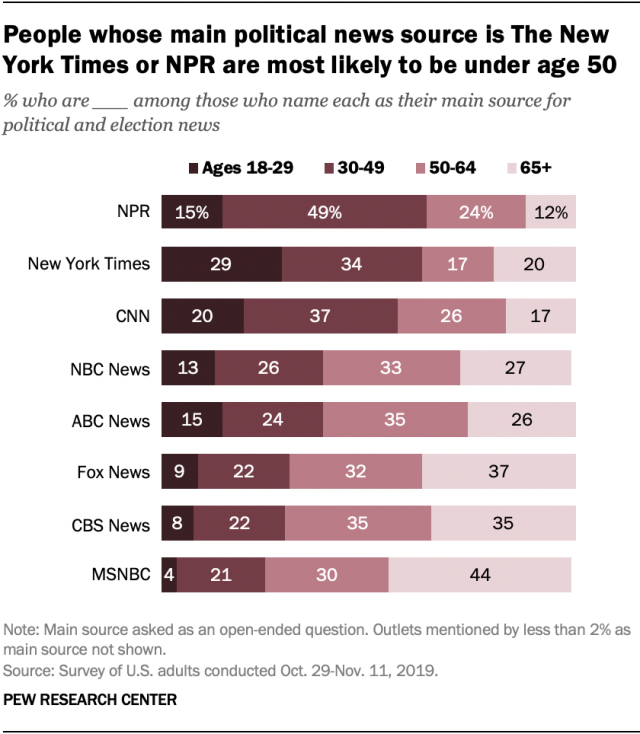 Moreover, respondents citing the New York Times were among the younger age group. In addition to the New York Times, respondents who cited NPR as their main source for political news were generally under the age 50.
"The New York Times has the highest proportion of adults ages 18 to 29 who name it as their main source, at 29%. Those ages 30 to 49 are most likely to name NPR (49%)."
Pew Research Center is a US-based think tank devoted to public opinion polling, demographic analysis, and social science research.
Photo: Brendan Mcdermid