In the U.S., more than half of Americans believe social media companies should refrain from the publishing of political advertisements, a new survey from Pew Research Center determined.
Initiated between September 8-13th of 2020, the research team asked American respondents whether social companies should allow political ads on their platforms.
According to the survey, 54 percent of American adults think social media companies should not all any publication of political ads on their platforms. This notion was similar among the three most prominent political ideologies: Democratic-leaning, Republican-leaning, and moderate supporters.
The most prevalent age group distanced from the idea of any political ads on social media platforms were the respondents in late-adulthood (65 and over).
"These views also vary somewhat by age. Those ages 65 and older are most likely to favor not allowing political ads on social media," the survey's co-authors stated in their report. "Some 64% of those 65 and older say these sites should not allow any political ads on their platforms, compared with slightly over half of those ages 30 to 64 and 45% of those 18 to 29."
"By contrast, those in the youngest age group are more likely to favor allowing only some ads on the site, with 30% holding this view, compared with about one-in-five or fewer of those in older age groups," the co-authors also stated.
When it comes to race and ethnicity, White Americans are more likely than Latinos or Asian Americans to dislike the idea of social media platforms showcasing political ads on their feeds.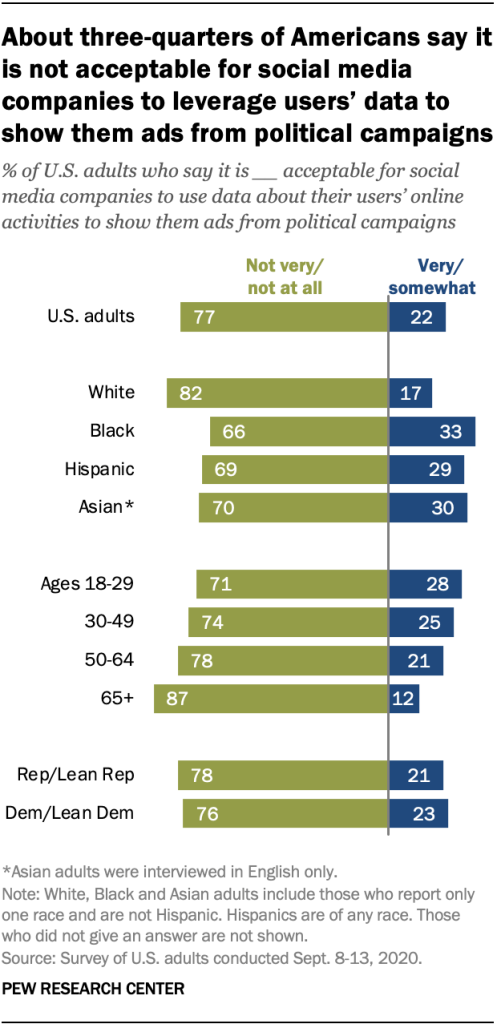 "Black, Hispanic and Asian Americans are all more likely to favor social media sites allowing only some political ads on their sites when compared with White adults," the report concluded.
On the topic of gender, the report also concluded the following, "Women (58%) are also more likely than men (49%) to say these sites should not allow any political ads on their platforms. Conversely, men are more likely than women to favor allowing all political ads on these sites (31% vs. 21%)."
Pew Research Center is a nonpartisan think tank devoted to public opinion polling, demographic analysis, and social science research.
Photo: Maneater Photo Archive