When it comes to politics, social media companies have too much power and influence over the spread of such news and politically-charged posts, a vast majority of Americans believe, according to a new survey.
Initiated by the US-based nonpartisan think tank Pew Research Center, the study involved more than 4,000 adult respondents.
In the survey, a vast majority of American respondents, or 72 percent, believed that social media companies, such as Facebook, Instagram, and Twitter, have too much power and influence in politics. The leading number of respondents were Republican or Conservative-leaning advocates, although most respondents from both sides agreed.
"Overall, 72% of U.S. adults say social media companies have too much power and influence in politics today, according to the June 16-22 survey," the Pew Research findings state. "Far fewer Americans believe the amount of political power these companies hold is about the right amount (21%) or not enough (6%)."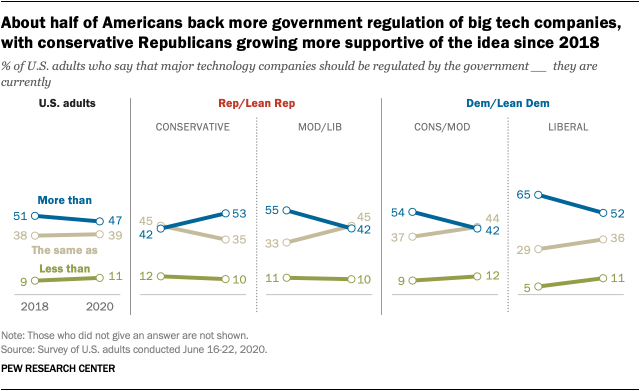 Moreover, nearly half of American respondents are in accordance with increasing government regulation of big tech companies. Conservative Republicans are more likely to advocate this and their beliefs have been surging since 2018, the survey showed.
"About half of conservative Republicans and liberal Democrats alike are now supportive of more regulation. But this marks another change from 2018," the survey says.
"The share of conservative Republicans who believe these companies should face more government regulation has increased from 42% to 53%. At the same time, the share of liberal Democrats who support more regulation of big technology firms has fallen from 65% to 52%. Conservative Republicans are the only ideological group who have become more likely to favor increased regulation."
The findings come amid an array of criticism toward the big tech giants, particularly by high-ranking government officials, civil rights protestors, and its own staff employees.
Photo: Getty Images