A public release by the United Nations General Assembly determined that Russia illegally annexed four regions of Ukraine as part of illicit referendums, adopting a resolution to condemn the acts.
According to the UN, more than 140 countries voted in favor of adopting a resolution that condemns Russia's actions on Ukrainian soil.
Only five nations voted against such a resolution, while 35 were counted as abstentions.
"Any annexation of a State's territory by another State resulting from the threat or use of force is a violation of the Principles of the UN Charter and international law," said the UN Secretary-General in a news release.
"Any decision to proceed with the annexation of Donetsk, Luhansk, Kherson and Zaporizhzhia regions of Ukraine would have no legal value and deserves to be condemned."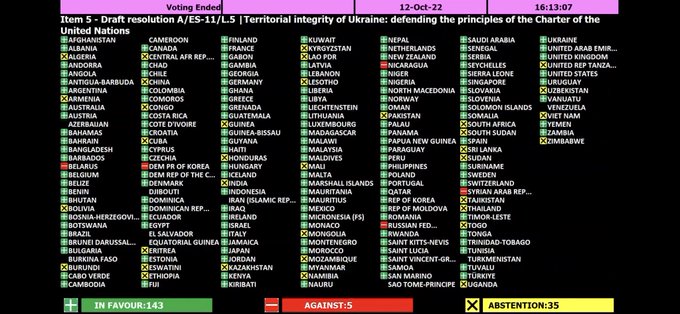 Before the annexation of Ukrainian regions, research by the Pew Research Center found that many leading nations loath the leader of the Russian Federation, including countries such as the United Kingdom, Australia, France, Canada, Sweden, and the Netherlands.
A previous US-based report by the Pentagon has also suggested that the Russian leader, named Vladimir Vladimirovich Putin, may suffer from a high-functioning form of autism.
Photo: Getty Images