A recent survey by the Pew Research Center think tank found that the vast majority of Americans, or seven-in-ten, now view Russia as an enemy.
The survey attributes the remarkable shift in American public opinion to Russia's military conflict in Ukraine.
Conducted in the beginning of 2022, the survey showed that 70 percent of American respondents view Russia as an enemy, while 24 percent viewed the nation as a competitor, and 3 percent as a partner.
Unfavorable views of Russia have reportedly increased steadily since 2020, with 69 percent of Americans having expressed unfavorable views and 23 percent somewhat favorable.
Americans of an older age and of higher educational status are more likely to view Russia as an enemy, the survey also determined.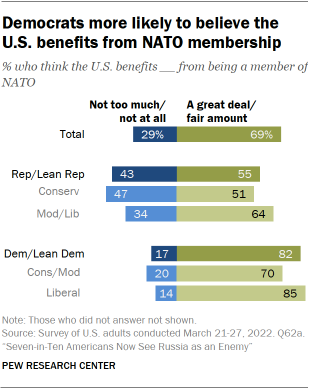 The survey also unveiled favorable views of NATO membership, with Democrats or left-leaning thinkers more likely to believe such a membership is beneficial to the U.S.
"As NATO faces increased scrutiny in light of Russia's invasion of Ukraine, the political and military alliance is seen in a positive light by most Americans. Two-thirds have a favorable opinion of NATO. This marks a significant increase from the roughly six-in-ten who said the same of the organization in 2020 and 2021," the authors of the survey found.