Amid an escalation of confirmed coronavirus cases, a new survey shows that many American adults are vastly concerned with how state governments are handling restrictions on public activity.
According to Pew Research Center, a US-based nonpartisan think tank, as many as 69 percent of Americans say state governments are lifting restrictions too early. Only 30 percent of respondents say the restrictions are not being lifted quickly enough, however.
The new survey was initiated between late-July to early-August and involved thousands of participants.
"With the U.S. economy reeling from the impact of the coronavirus, nearly three-quarters of Americans (73%) say the more effective way to help the economy recover is by significantly reducing the number of infections, so that more people feel comfortable going to stores, restaurants, schools and other workplaces," the survey also found.
In the survey, researchers also asked of America's response to the coronavirus pandemic, in which the majority of participants held negative views. In comparison with other nations, 62 percent of respondents viewed America's response as less effective, with only 25 percent showing praise.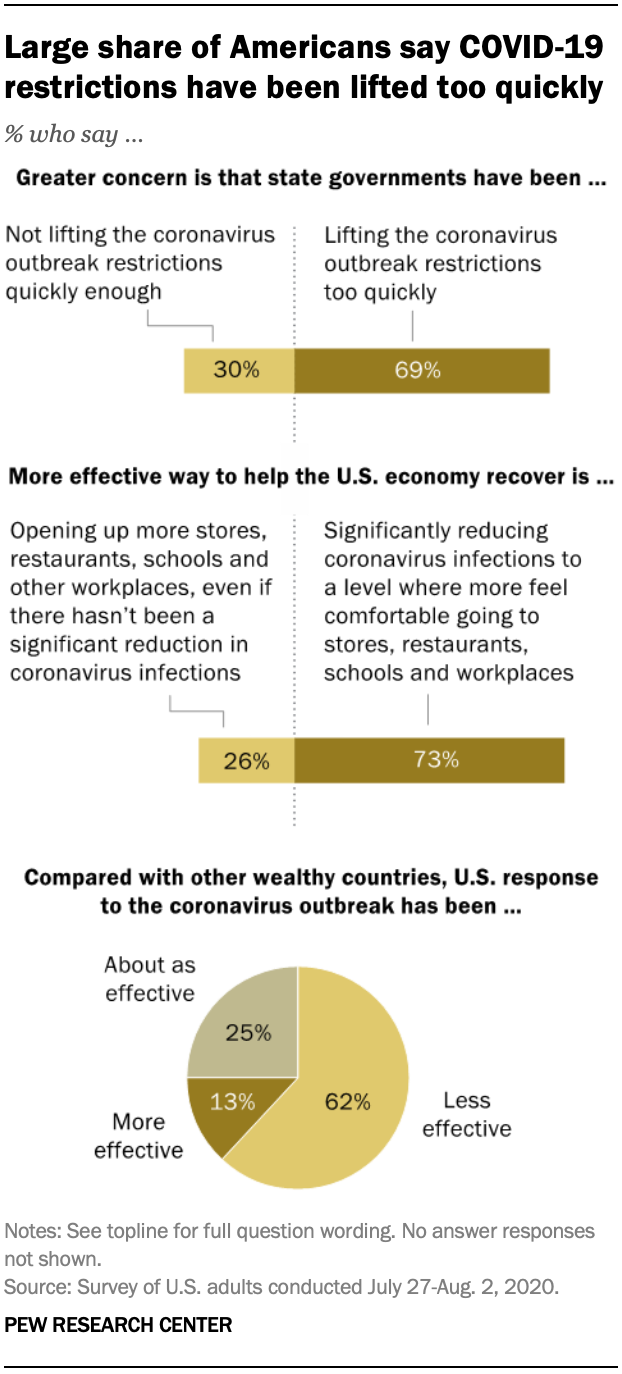 "About six-in-ten Americans (62%) say the U.S. response to the coronavirus outbreak has been less effective when compared with other wealthy countries, while just 13% say its response has been more effective," the Pew Research findings state. "A quarter say the U.S. has been about as effective as other wealthy countries."
When it comes to America's 45th sitting president, as many as 51 percent of respondents shared favorable or somewhat favorable views of the leader's response to COVID-19. Around 48 percent shared negative views of the 45th president's response to the pandemic.
"These views have changed only modestly since May, when 41% gave him positive ratings, but the share saying he is doing an excellent or good job with the coronavirus has declined 11 percentage points, from 48%, since late March," the survey determined.
Photo: Shutterstock